When works arise out of your Compliance audits you can add any remediation works to ProComply helping to ensure that you stay in control throughout the process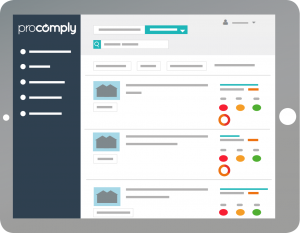 Planned, routine or scheduled maintenance tasks can be programmed quickly through the diary. Auto alerts and emails are included, so that routine tasks are automated, and assigned and data is exchanged to update the compliance register. Reactive maintenance or remediation work required following non-compliant audits can also be programmed using your approved contractors.
Standard workflow enables the sequence of processes and tasks to be managed from initiation via a job order to completion. This can include triggers and reminders, task automation and email alerts as well as a
3rd Party Pricing from contractors can be integrated allowing you to quickly secure quotes from suppliers for remediation works or improvement works. This process can deliver efficiency, market testing and quality as you can pre-qualify your potential suppliers to your own quality standards.
Your ProComply Dashboard can be tailored to link to the most frequently needed sources of reference or support for your day to day activities. Diary can be configured for your needs to include colour coded weekly, monthly or annual planners.
A RAG Compliance screen can be filtered at any point in time by property, estate or geographic area, giving you instant visibility of the property compliance for different fields e.g. Fire risk, PAT testing. This can be grouped to suit your own scheme of management responsibility.
This should be on read more Compliance reports can be generated to monitor the compliance scores of your property across your portfolio.
ProComply is completely configurable so that when remedial actions arise out of routine or planned maintenance the whole process can be manged by a standard workflow where specific tasks can be allocated including costing, commissioning, checking and invoice triggering.  ProComply can link to your own systems via a bespoke dashboard, and diary filters help you manage your maintenance schedule efficiently.